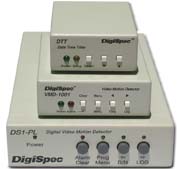 Welcome to DigiSpec, the vision research leader in VMD Digital Video Motion Detection technology.
These intelligent security system video motion CCTV devices offer state of the art indoor and outdoor video motion detector protection for motion, motionless and museum mode installations.
The DS1-PL, DS-16 and VMD1001 offer programmable sensitivity, trigger level and tracking time for automatic detection of multi zones of image movement. Special viewing modes for trace, video tracker, black out modes give upstream detection from a camera to activate alarms.